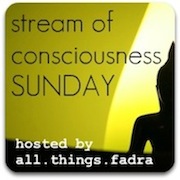 Today's Writing Prompt: How does winter make you feel and what do you do with those feelings?
I am not a fan of winter. I used to like it more, but in the past few years I've disliked it more and more. I don't like having to put on layers and layers of clothes before leaving the house. I have to wear a hat or the cold air gives me a headache. Waiting for the car to warm up is the worst. If I didn't start it before I had to leave then I'm miserable for the beginning of the ride, and probably shivering the whole way. Once I get cold I can't warm up. I will still be shivering for hours after I've come in from outside.
I try not to let winter affect me, but it does make me much less likely to get out and do things. I just want to stay curled up in the house with a blanket all the time.
The one thing I love about winter is the snow. I love days when it's snowing constantly. Too bad I live in Tennessee and we don't get days like that very often.
This was my 5 minute Stream of Consciousness Sunday post. It's five minutes of your time and a brain dump. Want to try it? Here are the rules…
Set a timer and write for 5 minutes

Write and intro to the post if you want, but don't edit the post. No proofreading or spellchecking. This is writing in the raw.

Publish it somewhere. Anywhere. The back door to your blog if you want. But make it accessible.

Add the Stream of Consciousness Sunday badge to your post.

Link up your post at all things fadra.

Visit your fellow bloggers and show some love.