So I've decided that Fridays and Saturdays just aren't good blogging days for me.
I'm going to try to blog the rest of the week from now on, but until I can get better at having blogs prepared ahead of time I'll definitely not be trying to blog every day.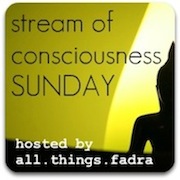 It's not quite over yet, but I figured I'll use today's Stream of Consciousness to talk about my first experience with NaBloPoMo.
I think it was really good for getting me into the swing of blogging. I liked having a goal for my first real month of this blog. I missed a few days here and there, but I don't mind it. I still feel like I accomplished quite a bit, and it will help me from this point forward.
I want to slow down a bit in the near future and give myself a chance to get posts built up and written ahead of time, because for right now I've been writing every day about a project I also did that day. I want to get to a better point, so if something comes up I don't feel stressed to get something up since I'll have something ready to get put up anyway.
I enjoyed having a place to go everyday after posting and seeing what others had written that day. I found quite a few blogs that I really enjoy through the NaBloPoMo page. I have a feeling I'll still follow it a bit so I can find more interesting people, but I don't like the pressure that it put on me for most of the month.
Overall I feel a lot more comfortable with blogging than I did at the beginning of the month. I still have a long way to go, but I've now got 28 (this makes 29) posts under my belt, and feel like I've got many, many more to come.
This was my 5 minute Stream of Consciousness Sunday post. It's five minutes of your time and a brain dump. Want to try it? Here are the rules…
Set a timer and write for 5 minutes

Write and intro to the post if you want, but don't edit the post. No proofreading or spellchecking. This is writing in the raw.

Publish it somewhere. Anywhere. The back door to your blog if you want. But make it accessible.

Add the Stream of Consciousness Sunday badge to your post.

Link up your post at all things fadra.

Visit your fellow bloggers and show some love.