I am participating in Stream of Consciousness Sunday. I just found out about it recently, and am loving this idea. I feel like today's prompt is totally appropriate for my first time participating.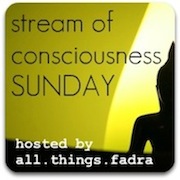 Today's Writing Prompt: Write about the distractions you have right now
I always have too many distractions. Before I could even start this 5 minutes of blogging I had to decide on the perfect music to listen to (I chose Ingrid Michaelson, in case you're curious), I had to download a timer app on my phone, because looking at the clock isn't good enough, and I had to wait until it was 9:00, because I'm weird with time and can't start something on an off time.
I had planned to get my blogging done at 4 this afternoon. Since I've already mentioned that it's 9pm, you can see that didn't happen. So what distracted me? Well, first I played cards with my boyfriend. (In addition to being gamers we're also total geeks and still play Pokemon and Yugioh. A lot.) We also ate and watched a few episodes of Boy Meets World. Then we did our daily jumping jacks (part of my new year resolutions). We played a game of Life on the computer and then I spent over an hour browsing blogs and other internet things before I got around to blogging.
And my timer just went off. Is it bad that I couldn't even get through a list of my distractions in the time I needed to blog today?